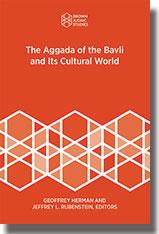 "The Aggada of the Bavli and Its Cultural World"
Essays that explore the rich engagement of the Talmud with its cultural world
The Babylonian Talmud (Bavli), the great compilation of Jewish law edited in the late Sasanian era (sixth–seventh century CE), also incorporates a great deal of aggada, that is, nonlegal material, including interpretations of the Bible, stories, folk sayings, and prayers. The Talmud's aggadic traditions often echo conversations with the surrounding cultures of the Persians, Eastern Christians, Manichaeans, Mandaeans, and the ancient Babylonians, and others. The essays in this volume analyze Bavli aggada to reveal this rich engagement of the Talmud with its cultural world.
Features
A detailed analysis of the different conceptions of martyrdom in the Talmud as opposed to the Eastern Christian martyr accounts
Illustration of the complex ways rabbinic Judaism absorbed Christian and Zoroastrian theological ideas
Demonstration of the presence of Persian-Zoroastrian royal and mythological motifs in talmudic sources
Geoffrey Herman is a member of the School of Historical Studies at the Institute for Advanced Study in Princeton. He is the author of Persian Martyr Acts under King Yazdgird I (2016); his edited and coedited volumes include Between Babylonia and the Land of Israel: Studies in Honor of Isaiah M. Gafni (2016) and Sources and Interpretation in Ancient Judaism: Studies for Tal Ilan at Sixty (2018).
Jeffrey L. Rubenstein is the Skirball Professor of Talmud and Rabbinic Literature in the Department of Hebrew and Judaic Studies of New York University. His books include Talmudic Stories: Narrative Art, Composition, and Culture(1999), The Culture of the Babylonian Talmud (2003), and Stories of the Babylonian Talmud (2010).